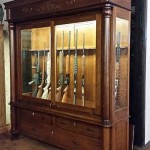 Custom Gun Cabinets – that's what we do.
Along with and growing out of our 30+ years of designing, building and selling top quality Amish built custom furniture here in the Heart of Illinois Amish Country, we have evolved this serious niche in custom gun cabinetry. Long guns, pistols and revolvers, swords, knives and other collectibles can be enjoyed while secured in locked, solid wood displays.

Everyone has their own size and design in mind when thinking of a secure way to display and protect your gun collection.  We have the ability to help you make your dream and ideas a reality. 
We provide the design and firearms knowledge working with you towards the best and most secure display. Our small shop, Amish craftsmen, using only the finest solid woods and materials, create the top of the line furniture quality casework. Finally we finish things off with LED lighting, leather trims, and security upgrades.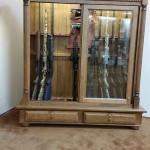 All of our gun cabinets are created from solid hardwoods such as oak, hickory, cherry, walnut, maple, elm, ash and quarter-sawn white oak. Additionally we have available many specialty hardwoods: such as rustics (knotty)- in cherry, white oak and hickory; specialty maples including flame, tiger and spalted; and others.
Your custom gun cabinet can be made to your dimensions, styles, and setups.  You can choose the number of long guns, pistols or other collectibles it will hold as well as their placement in the cabinet such as vertical or horizontal or angled for full gun profile display.  You can also choose from over a dozen different door and drawer styles as well as design a style that fits in with your current decor. Custom stains and attractive leather additions fine tune the look. Drawer and door placement as well as cabinet contents can be changed around to give you the gun cabinet configuration you desire.  Vault room display, built ins or free standing case. We have crafted gun cabinets with built in steel locking gun safes, false storage drawers, locks, glass fronts or sides, secure laminated glass or even bullet proof polycarbonate fronts, bird displays, pistol and knife displays, ammunition storage, and much much more. We will build it your way!

We can give you options in design and security. A good looking display case does not have to make your collection easily accessible. Whole, solid lumber construction, no flimsy pressed wood, multiple locks, break resistant or unbreakable glass, hidden compartments, steel reinforced cabinetry,  and multiple levels of security all can be combined to give you peace of mind.
On these pages are some of the custom gun cabinets we have crafted for people.  Included are a few pieces we have created that go along with the gun cabinets.  Feel free to look through our pictures and don't hesitate to contact us if you have any ideas or designs that you may have.