Amish Custom 26 Long Gun Floor Cabinet
This is one of a number of Amish crafted custom cases we have done for customers that already have a fairly secure area but wish to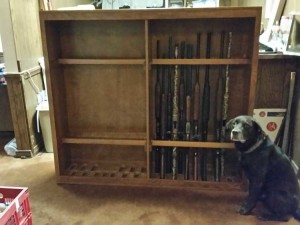 organize the piles of shotguns in the corners of the room and to lock down their collection a bit more.
This custom cherry wood floor gun cabinet was destined for a collector's closet area in Louisiana where curious and oily fingers were not an expected problem. Also space was limited and the customer wished to have the maximum number of long guns that his space allowed. The final case measured 63″ wide by 56″ tall by 14″ deep overall.
To get as many guns as possible into this space, we closed up the spacing as much as possible and then staggered the stock holes front to back for a closer fit. We took it as tight as possible while still being able to get to one of the back guns. The close gun spacing prevented us from utilizing our special "double barrel barrel rest" pattern when we double stacked the guns, but this clients collection was predominantly single barrel guns. We set 3 guns in the center of each section in a standard single stack which allowed enough spacing in the barrel rests for comfortable doub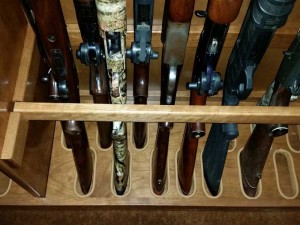 le barrel spacing for 6 guns.
This unit also included our wood covered steel locking system. Due to the width of the overall case we used two separate lock sets. Doing it this way added a center top to bottom wood wall which strengthened the overall unit, and also allowed us to us slightly shorter, and therefore stronger and easier to handle, front locking bars for access in his confined space.
We added the beaded, leather wrapping to the stock cut outs to protect from scratching the gun stocks.
Loki, our chief canine gun cabinet critic gave it a final approval just prior to shipping.
So if you an unusual need or space requirement for a gun display cabinet, let us try to help.