Amish Custom Gun Cabinet Drawer Bases
We have calls for many varieties of base units under both custom long gun cabinets and custom pistol displays. Most common gun cabinets offer a simple door and possibly a shelf below for locked storage of cases, boxes and supplies.
However most of our custom work goes much farther in offerings.
Start with various locking drawer bases of any height, width and number.
Include a cleaning or show shelf if desired.
Locking doors can be mixed into your lower unit with shelves or concealed drawers or both hidden behind.
Steel locking "safe" doors can be included behind locking lower doors again with shelves or drawers for an additional layer of security.
We can set the drawers/shelves/storage into any configuration you need to conceal or store any variety of "stuff."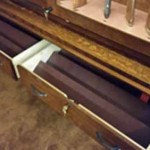 We have included fly rod case inserts, sloped pistol display inserts and others we failed to take pix of. If you have a special need, let us know.