Custom Gun Room and Wall Units
Many times we are called on to help with custom gun room designs and displays.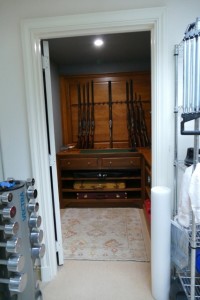 This client in California had a room being planned and wanted to match the large raised panel walls he had in his library. Our design team and Amish crafters were up to the task. After a lot of back and forth on the details and dimensions, we crafted two large raised panel wall units in cherry wood with a vertical long gun display on one wall and a horizontal long gun display on the other wall.
First we had to size things to fit wall to wall. We included a desk unit, drawers, storage area, and top work space on the vertical gun wall and designed trim for final fitting. On the adjacent wall we then designed matching trims a lower book case unit and some end storage shallow enough to clear the adjacent door.
Lastly we had to arrange delivery to the west coast. All was well and the clients only final problem was the few empty positions that he now needed to find something new to display. A serious problem that any collector should hope to have.
One concern that arose after installation, which was pretty California specific, was earth quakes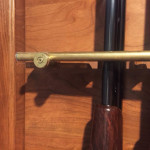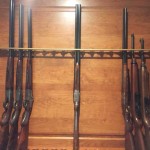 and strong vibrations. A this was in a secure gun room, our standard locking bars did not enter the early discussions. In most locations, the standard back lean on a gun barrel rest notch would be sufficient, but California has its own "problems."
The solution designed by the installing contractor along with the client, utilized a couple of deeply notched out brass shell casings and a solid brass rod that would keep the long guns in their pockets in the event of stronger shaking. Kudos to the design and with the permission of our client, we can now replicate this if desired in a gun room design for you.