Custom


Gun Cabinets
Sophistication meets Safety
Amish Custom Hand Built Gun Cabinets and Gun Safes.
Wall Hanging Pistol Display Cabinet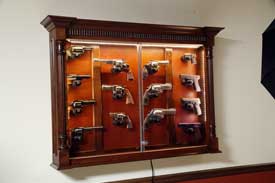 Our newest addition to our locally Amish made custom gun cabinet selection is our custom pistol display case. Our local Amish craftsmen have spent over a year developing and creating prototypes in different sizes and shapes of this display cabinet and have finally created a pistol display cabinet they are proud to stake their reputation on.
All of our wall hanging pistol display cabinets are hand crafted with the same attention to detail that all of our full size custom gun cabinets are created with. Local Amish craftsmen use only the finest select hardwoods and fine attention to detail to create a cabinet that not not only display your pistol collection but can also be considered a work of art in itself.
One of our main goals in the creation of this pistol display cabinet was security and safety comparable to our full size custom gun cabinets. To achieve this we utilized individual pistol trigger locks in order to secure all of your pistols to the display case. This allows your pistol collection to be displayed in an eye pleasing way as well as assures you that they cannot be removed without your knowledge.
After we finalized our main goal, which was security, we then shifted our focus on designing one of the most eye pleasing display cabinets made. Each of our pistol display cabinets can be custom crafted in your choice of sizes, solid woods, colors, designs, and pistol setups but the majority of our customers have ordered their cabinet to look exactly like the one pictured here. We utilized solid cherry hardwood, custom crafted molding, and LED lighting. Each of the pistol trigger locks is universal and can fit numerous shapes and sizes of pistols.



Pistol Wall Display




Pistol Display
with Base

8 Gun Angle
Pistol Display

Pistol Display
Chest


21 Pistol Wall
Hanging Pistol
Display

French Antique Wall
Hanging Cabinet