Another 12 gun cabinet 5 drawers, Amish crafted, custom unit we sent to Texas is our "fancy" case style… having most of our "fancy" trim features… raised panel case ends, wide rope moldings, fluted column face trim, and angled frame top doors. A very stylish case.
12 gun cabinet 5 drawers, in solid, clear cherry wood,
Laminated glass locking upper doors.
The cabinet sized at 42″ wide by 85″tall.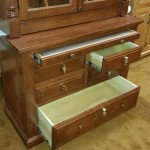 has plenty of s 5 dovetailed, individually locking drawers and a leather topped pull out leather shelf.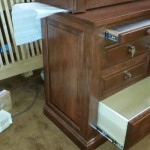 Raised panel end panels on both the upper and lower case sides really dress the unit up.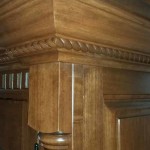 Fancy, rope trimmed wide crown molding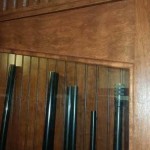 Angled top door rails with laminated glass for security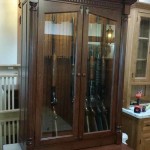 and a bead board panel back.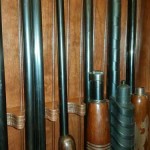 Leather barrel rests and stock cutouts.
Bead board inside back.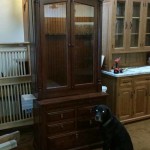 And approved by Loki, our resident, canine, gun cabinet critic.
We do quite a few of this style gun cabinet. The top unit is what we call our "fancy style" case with the fluted, post column front trim, wide rope top molding, raised panel cabinet side panels and the angled top door rails. The bead board back panel is a nice upgrade as is the leather trims inside.
The 12 gun cabinet 5 drawers variant is one of our most popular designs.
The primary variants shown here is the lower base 5 drawer and pull out shelf. We do these with any number of door/drawer/shelf combinations to suit particular looks and storage needs.