Shaker Style Wall Pistol Cabinet
One of our more popular styles in our Amish crafted furniture is Mission-Shaker styling. Simpler lines, with cleaner or absent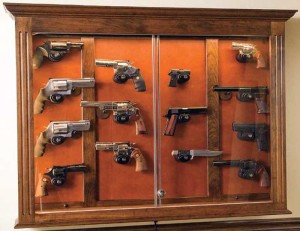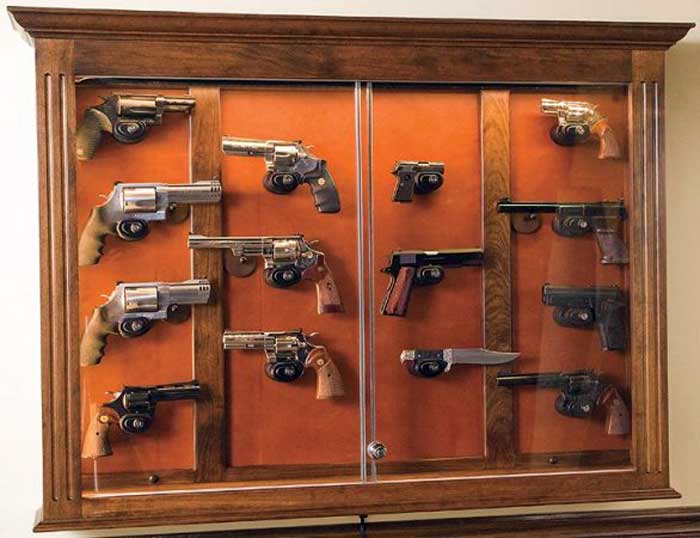 moldings. This 14 pistol cabinet fits this shaker mission style with the plain crown molding, and the two plain flutes on the front frame end stiles.
This Amish built case is shown here in clear cherry wood and a medium stain. Depending on your screen settings the leather on the back was called "Goldmine" and is a popular, bright, warm color that blends well with medium wood tones and standard walnut gun stock tones.
This cabinet is sized for a standard 14 pistol display about 45″ wide by 35″ tall. Other "standard" configurations include 7 and 21 pistols designs, but even if you are thinking 18 or 65 guns, let us know and we can help with your project.
Of note in this image on the center revolver of three on the left is a magnetic barrel support. While the rubber grips on the locking trigger guards do well to secure and balance most hand guns, occasionally on barrel heavy pistols the pistol wants to tip downward a bit unless you really lock them in.
To compensate for this we offer rubber covered magnetic supports.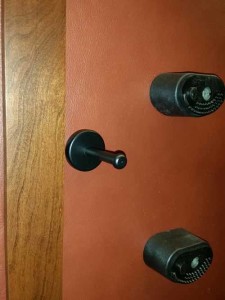 These do have to be ordered initially with your cabinet build as metal strips need to be embedded in the back behind the leather. Alternatively we have also attached the leather to a complete metal sheet back, which allows free form placement of the magnets and can be used for temporary displays of other items that do not need to be locked in place. Actually the neodymium magnets are quiet strong and hold a pistol all by themselves if needed.
When used on larger barreled pistols, they are quite unobtrusive in the overall pistol display.
Again we should note the layers of security offered here. Solid wood case construction with optional steel reinforced internals to help maintain the case integrity, solid 3/8 backs for easy attachment to your wall studs, laminated security glass or literally bulletproof 1/2 inch polycarbonate doors, and individually secured locks for each item in your collection. There will be no smash and grab here!
Lastly we want to remind you that any of our "wall pistol cabinets" can easily sit on top of other pieces either loose or attached together – hutch like or be incorporated into other larger displays.
If they are not attached to the wall, of course you do lose some of the security angle, but we can help you work thru that in your plans. Security is a primary concern to us in all of our Amish built cabinetry.