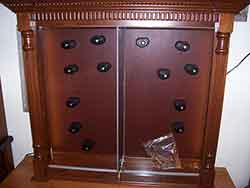 Along with long gun displays, our locally Amish made custom gun cabinet selections include our custom pistol display cases.  Thru years of custom work we have settled on our flagship wall unit. And, while we call this our flagship, it seems we are constantly making new designs and variations to meet our clients needs.
All of our wall hanging pistol display cabinets are hand crafted with the same attention to detail that all of our full size custom gun cabinets are created with.  Our Amish craftsmen use only the finest select hardwoods and fine attention to detail to create a cabinet that not not only displays your pistol collection but can also be considered a work of fine furniture in itself.
One of our main goals in the creation a pistol display cabinet was security and safety comparable to our full size custom gun cabinets.  To achieve this we first worked on a solid, strong case. In addition to the hardwood frame and sides we use a 3/8 solid heavy back panel over the more common 1/4″ backing. This allows for stronger overall case and better attachment to walls. If we add metal angle reinforcements, the case itself is extremely strong compared to standard wooden cabinetry.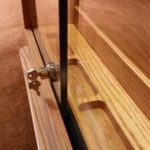 For the clear front we offer laminated glass which can crack but very hard to break out… think auto windshield glass, in most cabinets. For the highest security, bullet proof and virtually break proof half inch polycarbonate by-pass sliding doors can be used.
Inside the case, as an enhancement over plain wooden pegs, we most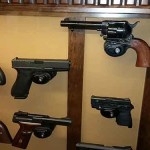 commonly utilize individual pistol trigger locks in order to secure all of your pistols to the display case.  This allows your pistol collection to be displayed in an eye pleasing way as well as assures you that they cannot be removed without your knowledge, even if the case is breached.
With these three layers of security, you collections is as secure as it can be outside of your major fire safe.
After we finalized our main goal, which was security, we shift our focus on designing one of the most eye pleasing display cabinets made.  Each of our pistol display cabinets can be custom crafted in your choice of sizes, solid woods, colors, designs, and pistol setups but the majority of our customers have ordered their cabinet to look exactly like the one pictured below. Either as a separate wall unit or with a display base of some kind.  In the above image, we utilized solid cherry hardwood, custom crafted molding, and LED lighting.  Each of the pistol trigger locks is universal and can fit numerous shapes and sizes of pistols.
We have designed Amish custom made pistol and long gun display cabinets in numerous styles and woods.  Our most popular styles are mission, country, or our elegant design.  Some of the sustainable hard woods to choose from are oak, cherry, hickory, maple, walnut, and quarter sawn white oak.  Elms, ash, and many wormy, pecky, spalted, sappy and other variations can make your cabinetry unique. We also custom craft numerous wall hanging pistol display cabinets out of rustic hard woods for a antiqued appearance.